Club Meetings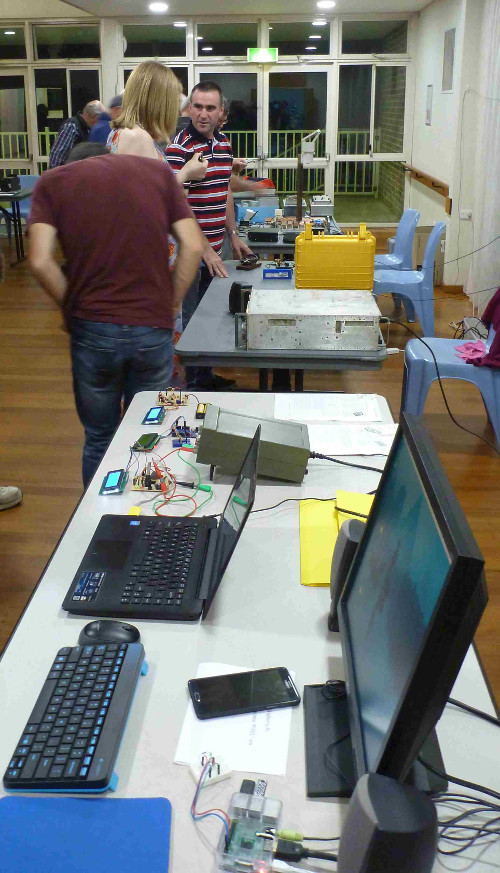 Open Night 2016
NOTE: COVID-19 restrictions are in place and attendees will need to sign a register, numbers are limited, and you must register with the secretary in advance. For more information, please review the club's COVID-19 Safety Plan
.
The Club meets at 8 pm on the 4th Tuesday of each month at the Community Centre, Pierre Close, Mount Colah (just outside the eastern entrance to the railway station), and visitors are always most welcome. At this meeting there is usually a talk on a radio-related topic, together with Club business.
On the 2nd Tuesday of each month there is an informal gathering and workshop, when Club members bring along equipment to be tested, and group construction projects are discussed etc. The more experienced members are available to give advice and help with equipment problems and operating skills.
Meetings are not held in December or January. Instead, the club meets for a Christmas party and other social events. Regular meetings resume in February.
Club Weekly Radio Nets
VHF/UHF Net
each Monday at 8pm local time on the VK2RNS repeater (147.250 +600KHz).
HF Nets
each Wednesday at 8pm local time on 3.6085 MHz.
each Friday at 9am local time on 7.106 MHz.
Net control is under the Club Callsign VK2MA. All amateur stations are very welcome to join the Net.
Check the news section for topics of upcoming meetings.
Jitsi Video Conference
During the COVID-19 pandemic, HADARC is also meeting via Jitsi video conference.
To Join the meeting from Linux, MacOS or Windows open your browser and go to: https://meet.jit.si/HADARC.
Make sure you give the page permission to use your Microphone and/or Camera.
This should work on Chrome, Chromium, Firefox or Safari. If you are not using Chrome you may get a "Browser Warning". You can ignore this or click on ⌄ to expand it and click OK to remove it.
If you are using a Tablet or Smartphone running iOS or Android you should install the Jitsi Meet app from the App Store or Play Store then enter the Room Name: HADARC
(We are using our radios but if you need to join by phone instead, tap this: +61871501136,,3145759306# or dial +61871501136 and enter 3145759306#)